Walmart-owned digital payment and financial services company PhonePe is going to acquire Samsung backed Indus OS, an indigene mobile platform that works as a third-party mini android app store.
The deal has yet to close, and as per the sources, it values at $60 Million. Following the deal, the investors of Indus OS will leave the company with cash, and the founders along with the team would join PhonePe, as per the sources. If the negotiations are settled down well in time, then the deal could close in the next 4-8 weeks.
This would be the second acquisition by the Bengaluru-based company phonePe since its inception. In July 2018, it acquired Zopper Retail, a hyper-local point of sale platform for small and medium businesses.
The Noida-based Indus OS powers several popular third-party Android stores, including Samsung's Galaxy Store, and provides partners with localized content and apps.
The seven-year-old start-up Indus OS has offered mainly three products, Indus App Bazaar, Indus One, and Prisma. In which Indus App Bazaar is the USP of the company. It offers an enhanced App Store Ecosystem (EASE) for android smartphones with a focus on localization, personalization, and ease of use. It available in English and 12+ Indian languages. With more than 1 Billion downloads, Indus OS includes 4,00,000+ Apps in its database and have 100 Million active users on their platform, as per the latest data.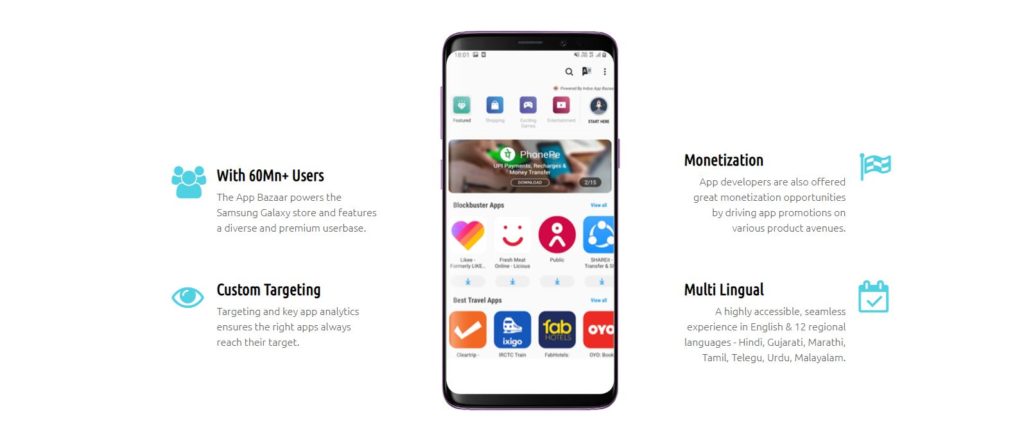 Indus OS has been funded around $20 million by Samsung Venture, JSW Ventures Omidyar Network, Affle, and VentureEast. Samsung and Affle control 20% and 8% stake in Indus OS, which reported a revenue of Rs 17 crore for the year ended March 2020, as per their filings.
The reason for the acquisition of IndusOS is still not clear, might be because PhonePe's competitor Paytm is also exploring to launch their mini app store in the next few months, this could be the strategy of PhonePe to take on its rivals like, Paytm, Amazon Pay, Google pay and others.