OTT is a new entertainment hall of our life, Netflix, Prime videos, Disney Hotstar, SonyLIV, Voot, Spotify, Gaana, MX Player, Eros, Ullu, Alt Balaji the counting continued. As an OTT user, you know that it will be hefty to your pockets to subscribe to your favorite OTT platforms as a single user, and it is also challenging to manage an account on a monetary sharing basis with your friends and relatives on your own.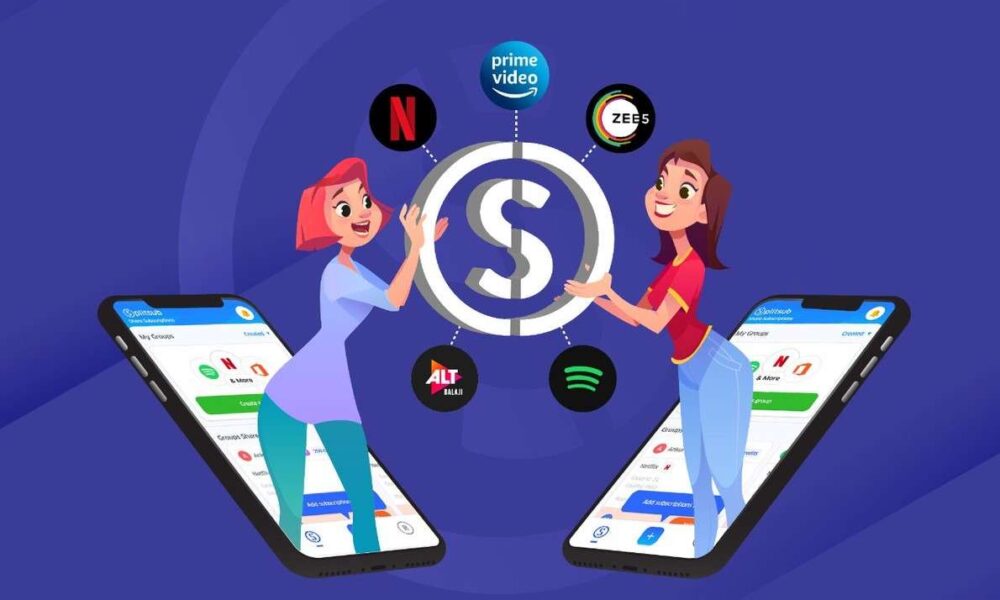 There are more than 90 OTT players spread across video and audio (music, podcast), along with work-related platforms such as Microsoft Teams, Zoom, Microsoft Office Grammarly, Otter, and others. What if we can use our favorite OTT on subscription sharing, which is managed by the professionals?
Delaware US, and Gurugram-based startup Splitsub have developed a platform which provides sharing subscription at OTT platforms and splitting bills into many users to reduce the effective cost of their plans, especially when these platforms offer multiple screens on their platform.This idea has come to the mind of Ankur Solanki and Dhruv Goel, results in Splitsub in March 2020. 
Splitsub is an app made just for this purpose which not only allows you to easily share your subscriptions but also protected by encrypted password, complete control over expenses, and having a secured payment gateway. 
"We have created a group sharing platform where users can decide with whom they want to share which subscriptions. At the same time, they can discover new online subscription groups that they can join to avail of digital services," Dhruv says.
The app had its beta launch on April 1, 2020, and claims to have got 10,000 sign-ups in the first two months. The key target audience for the app comes from Tier I and II cities and is in the age bracket of 18-40 years. Splitsub, which has a team size of 20, has also been recently selected to be part of Y Combinator's winter batch 2021. Currently, the company has an 8000+ subscription group with 15000+ users. 
To use this app, the user needs to sign in using OTP and share his phone contact list with the company server. On the home interface, they can explore groups created by friends, family, or other contact list person, user can join it, or can also initiate a group which user's contacts can join.
Splitsub uses the Paytm payment gateway to make any transaction for subscriptions. It uses 'credits' as currency, and 1 Credit costs Rs 1. If you want to join any subscription group, you have first to load the wallet using a Credit/Debit card, UPI, or internet banking.
"The startup does not manage, create, or sell groups; we only handle payments and make sure that users are not cheated by illegitimate group owners on the Splitsub platform," he added.
Spiltsub is not the first startup of the duo. Before Splitsub, both friends had started Omadre Medico SL in June 2018. It was a breast milk management company that helped neonatal units in hospitals to manage breast milk for premature babies securely.