In 2017, Kruthika Kumaran started her own organic skincare brand, Vilvah. After her mother died in 2016 due to skin problems, she launched the brand with natural skincare products made specially made of goat milk. Kruthika Kumaran was born in Gobichettipalayam, a small town located in Erode district in Tamil Nadu. She belonged to an agricultural background family and got married at the age of 21. Seeing her mother, Manjula Devi, facing problems due to chronic skin conditions and taking steroids affected her mother's kidneys and passed. As she spent years caring for her mother, losing her was depressing for Kruthika.
Kruthika's mother always used to tell her the importance of organic and handmade products. She learned about handmade products from her mother while also taking care of her mother. So because of no time back then, she couldn't give much time for anything else. After her mother passed, she started making soaps by experimenting with different ingredients following her mother's teaching.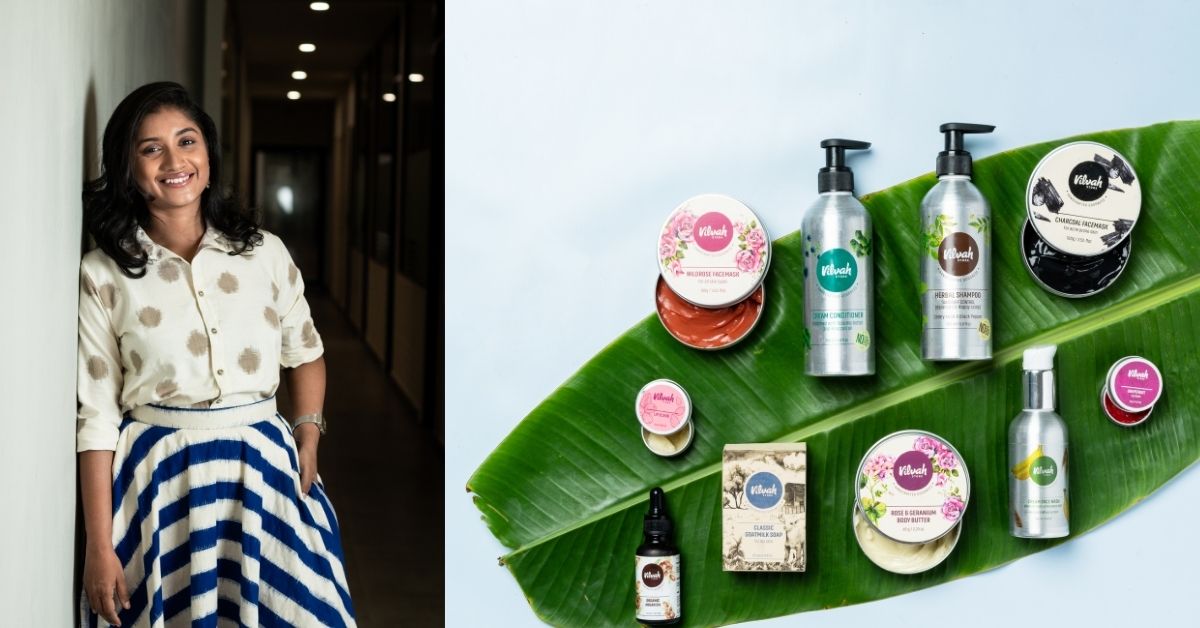 The main ingredient is goat milk which she gets from her natural farm. She also preferred goat milk because it comes with many benefits like the pH levels of human skin and goat milk is the same, which helps maintain chemical balance. It is also suitable for people with skin conditions like eczema, psoriasis, or fatty acids by providing moisturizing effects on dry and damaged skin. She shared in an interview that her daughter has eczema, and while she was experimenting with the ingredients, she also kept in her mind that this should help her calm her skin condition.

She also shared her concern about the people having the same dry skin or eczema problem, increasing with time. To make finer products, Kruthika joined a natural cosmology course for better understanding. She then started making products with goat milk, and when she got a final product, she shared them with her family and friends. The product was good and received a good response. She says to this, "it was my turning point. She understood what she really wanted to do. It was not about running a business or earning revenue. I was looking to divert my attention from massive grief but found my life's calling instead." She initially started her business with a Facebook page and making products from ingredients available in her kitchen. Her products consist of goat milk which used to be from her own family farm. She also said that her products don't contain harsh chemicals or additions like sulfates, silicones, parabens, artificial perfumes, GMOs, or glycols and instead rely on natural and organic ingredients, carrier oils, essential oils, and butter. They're also free of animal testing. Vilvah offers various products, including cleansers, face masks, moisturizers, lip and eye products; also hair products like shampoos, hair oils, masks, and conditioners, etc., and also providing products for men.
Products are offered in a variety of pricing ranges and can be shipped across India as well as to other countries such as the Canada, United Kingdom, the United States, the Gulf countries, Malaysia, and Singapore. Vilvah items are especially demanded in Malaysia and Singapore. At present, they have two outlets, one in Coimbatore and the other in Chennai. They also have their own website and are also available through other websites like Amazon and Nykaa. All are certified products and don't use any powdered products but only fresh farm ingredients. They have also introduced an agro-products segment that provides uncommon varieties of white, black and brown, and red rice from across India. To sell these, they've created a zero-waste store in Coimbatore, which Kruthika claims is the city's first. She also mentioned that they want to highlight some of India's rarest rice types, including 50 available varieties of such rice, including Assam's chak-hao, kalanamak rice, mapillai samba, and many others. Kruthika describes her initial days as hurdles and says it is her mother's blessing that has made her this successful. But with time, she also has to manage the burden of different circumstances that can affect their business and keep improving and come up with innovative ideas to grow. Also, being a mother makes it sometimes difficult to handle business and children together.
During Covid, it got difficult for Vilvah to keep products fresh. As Kruthika explained, "For skincare products, particularly natural and organic ones, the shelflife is of utmost importance. Sourcing raw materials in such uncertain times has become a major challenge for us. Since we are operating predominantly online, delivering the product to a consumer in a stipulated period of time is also a challenge now. Sometimes an area becomes a containment zone before a product can reach it, and the shipment comes back to us. So it's been quite chaotic. We disabled our COD option for a long time because there were so many uncertainties. It certainly affected our business."
Though Kruthika didn't give up and managed to run her business. She shared her experience about her journey from being a 21-year-old girl who got married and never stepped out of her state boundaries and got no professional experience before. Starting a business was a turning point for her, through which she gained whole new experience and confidence.