No one say no to samosa. It's one of those snacks that hardly anyone will say no for. Whether it's tea time or a party, samosa on the menu will never be a mistake, and especially when it has started coming up with many filling options.

With the same set of minds, Amit Nanwani and Diksha Pande established a business in Banglore with the name of Samosa Party in 2017. They planned on providing a healthy but authentic alternative to India's favorite snack. Using innovative ideas and tech with their product, they want it to uplift the identity of the popular snack. Diksha, who has her past experiences in Food and Beverage Industry, is well-versed in her field and has always been intrigued by consumer behavior and the potential it presents. After working in companies like Yum Brands and Chai Point, she recognized the ability of local businesses to grow. She felt that introducing many foreign cuisines has taken the limelight of the locals and has firmly established themselves in our daily lives, making the local snacks limited as street-side options. Then she met Amit, the co-founder, who shared the same mindset, and so they came up with Samosa Party.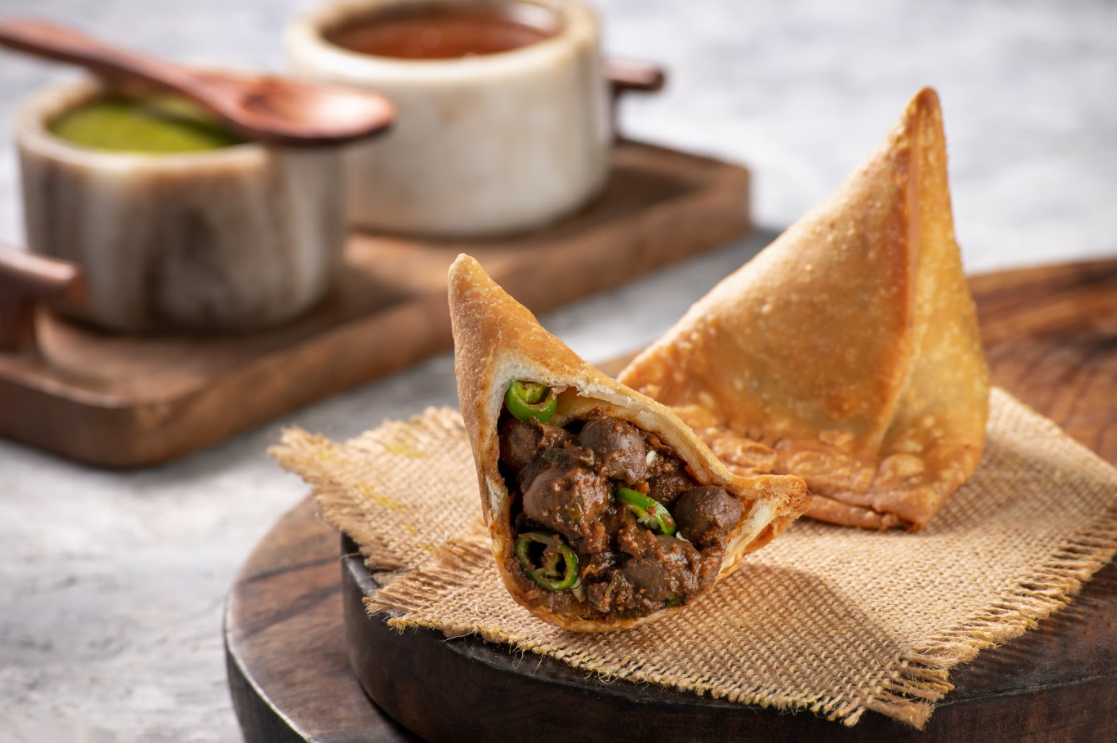 According to Diksha, they wanted to give local food global recognition. They want to make one of India's most famous street snacks possible at the touch of a button in sanitary, tamper-proof packaging. The co-founders of Samosa Party seek to offer a unique experience for urban millennial clients who value convenience, hygiene, and quality, even if it means paying more.
She mentioned in an interview that they managed to change how samosas were used to be consumed. Now through online accessibility, anyone can get it delivered in 30 minutes. As she aware about the changing trend, she clarified that The overall behavior and accessibility have changed with time. They knew that the most millennials are the regular customers and want good value for their money, so Samosa Party make sure that whenever someone order from them, they get hot and crisp samosas without having to go to the shop.
Which started as a single store in Banglore, is now available through online platforms and has its own website providing their samosa at 15 different locations and in 15 different varieties. This D2C company receives almost 50,000 orders every single month and from which many customers are the repeated customers. Their primary focus is to keep the authenticity of the local snack. Amit shared his experienced that how relocating from place to place; he observed that street food loses its taste and real value. As he observed that samosas are one of those local snacks which are common and consumed by many Indians regularly, it didn't get that much attention and respect it deserves. He also observed that samosas are either made under very unhygienic conditions or available at very fancy places with high prices; sometimes, old ones are reheated and then sold. When they started Samosa Party, they wanted to revive the experience and make it easy for people that "whenever they think of samosas, they should think of Samosa Party." Amit said in an interview, that they don't want to change the customer's experience for samosas but want to elevate it. They aim to stay authentic but also taking in the contemporary approach to selling it.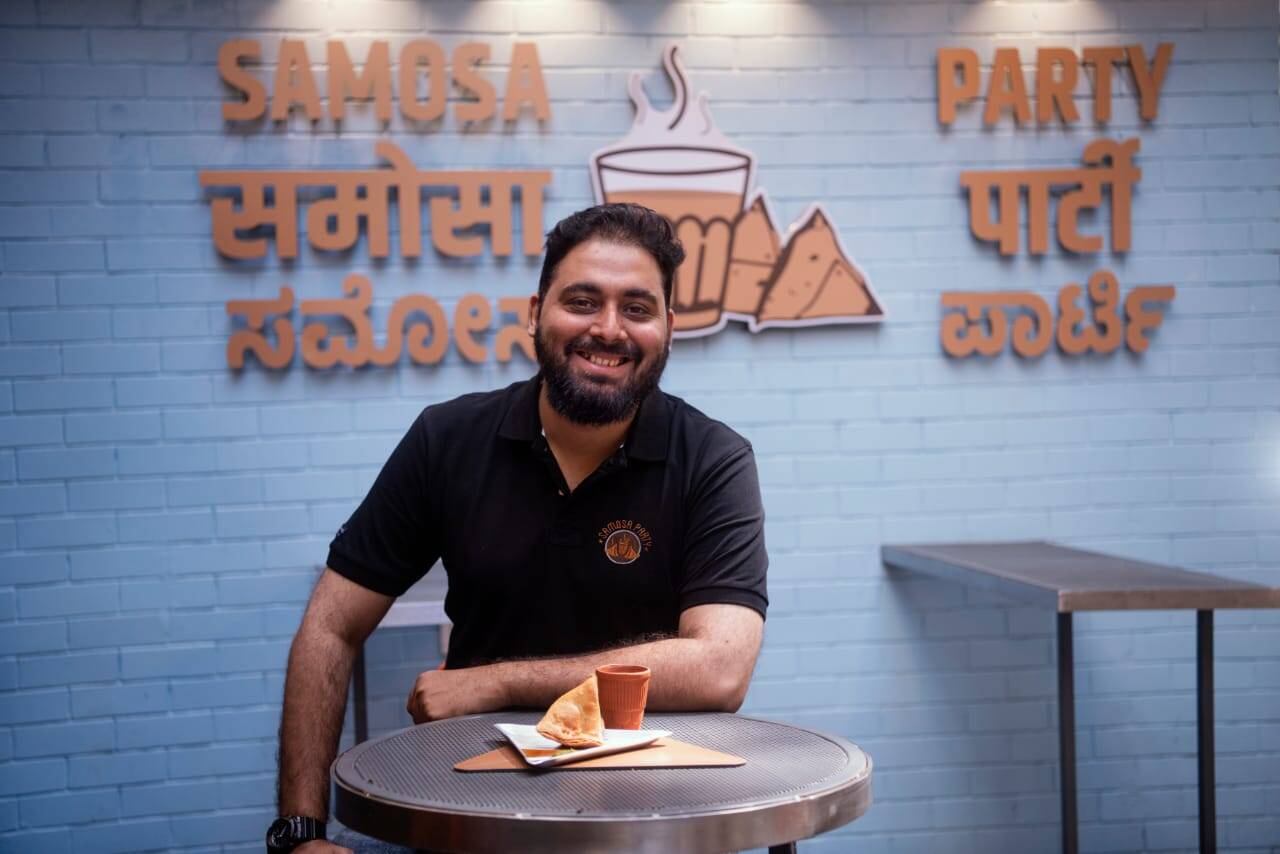 They are aware that Indian foods are primarily handmade, and still, there is a process that needs proper care. Amit mentioned that while making samosas appears to be simple, the procedure requires a great deal of talent and effort. Recently when a customer pointed out a code embedded on samosa, he asked startups to keep tech innovations away from the food. On this, Diksha clarified that the code embedded on the samosa crust was the name of the filling to avoid confusion. She also clarified that they have 14 varieties of fillings and they also receive numerous feedbacks from their online customers on the difficulty in identifying the different fillings. They also put numbers that are codified concerning which batch they have come out from. So, coding helps in solving such issues and by keeping the batch codes and follow the first-in-first-out method. Also, mentioning that it's difficult and also necessary to stay updated with technology these days.
The inscription also aids in the company's branding. Anyone who sees the inscription knows it belongs to the Samosa Party. They also automated the different processes involved while making the samosa. At Samosa Party, Amit looks after product, technology, and growth, while Diksha is in charge of operations, people, and customer experience. Samosa Party also received funds from Inflection Point Ventures (IPV), which they planned to use for expansion and production technology. Anku Mittal, the Co-Founder of IPV, said, "The company continued to see business growth even during the lockdown, and we want to back such companies. We believe our vast investor base will provide an impetus to Samosa Party's growth by helping forge partnership."
Even though they started a new branch at Gurugram but they were still able to attract customers. While sharing their journey experience, Diksha mentioned that they had sold more than 22 lakhs samosas till now, and their startup has grown fivefold since inception.
Diksha also shared her experience in the firm and new stories related to samosas. Especially during the pandemic, people turned for Samosa Party for comfort and familiarity. They received a lot of orders from people who were missing home. But even before coronavirus, people who used to come to their stores would often comment, 'Isko khaake ghar ki yaad aa gayi (Eating this reminded me of home).' They realized that Samosas and customers are inextricably intertwined, and it brings them great joy to be able to deliver this slice of joy to their customers.
Even during the pandemic when people were mainly concern about hygiene, Samosa Party made benefit from it. Though maintaining the situation during the time was difficult, but they ensured their customer's and team's safety. As mentioned by Diksha, "We are not cost-conscious as we are quality-conscious. It's a long haul. Building a food brand is not something you can do in a year." They have also introduced many different items on the menu to spice up moments with samosa, like providing chai options, desserts, cold beverages, and many other local snacks to enjoy. They also introduced the combos and bucket of samosa with the idea that samosas are for sharing and also keeping mind for occasions and gatherings demand.
Samosa Party was founded to make high-quality samosas available to clients in a clean and trustworthy atmosphere across all channels. It works by leveraging technology to solve the supply side challenge of samosa production and consumption at scale. Now they receive regular orders for parties, events, and gatherings. Also, in the future, they are focusing on expanding in the NCR region and then trying to make it available across India.